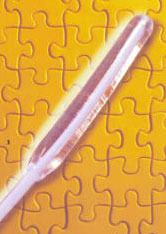 Tearduct™
Tipless Dacryocystoplasty Balloon Catheter
Catheter Characteristics
The Tearduct catheter is a tipless balloon catheter and engineered for maximum steering and tracking. The Coaxial shaft design provides enhanced column strength and pushability combined with a flexible distal tip optimum steerability. 
Radiopaque Marker
A platinum image marker band is placed under the distal part of the balloon for clear identification under fluoroscopy. 
Vessel Conformability
NuMED balloons have an ability to conform to vessel shape while maintaining maximum inflation pressure. This reduces trauma to delicate vessel intima. 
Usable Length
The usable length of the catheter is 20cm. Other usable lengths are possible and available on request.