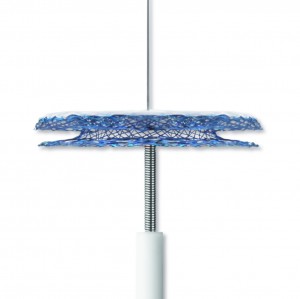 Cardiology
Product Categories
Nit-Occlud ASD-R
Nit-Occlud® ASD-R is knitted from a single nitinol wire without soldering.
It consists of two discs, a distal or left one and a proximal or right one. The unique
single-layer distal disc reduces the metal used in the left-atrium (LA) by around
50%, decreasing the thromboembolic risk.
Benefits:
Unique single-wire knit – Nit-Occlud® ASD-R is knitted from a single Nitinol wire, making protruding fixation-clamps obsolete and results in a very low profile.
Safe and simple device release – The occluder is pre-mounted, retrievable, easy to position and enables a soft and tension free release.
Patented design – The single-layer left atrial disc reduces the amount of metal used in the LA by around 50% and by this decreasing the thrombo-embolic risk.
Various sizes – The Nit-Occlud® ASD-R is available in twelve different sizes, ranging from diameters of 8 – 30 mm.
Adaptive flexible design – Optimal compromise between flexibility and strength. The rim of the LA disc is reinforced to facilitate implantation and to avoid pull through.
Accelerated endothelialisation – The polyester membrane facing the LA promotes accelerated endothelialisation
Related Resources