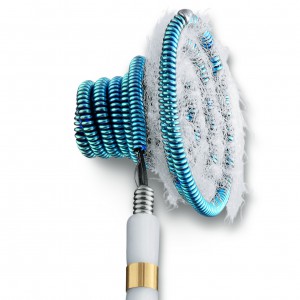 Cardiology
Product Categories
Nit-Occlud Lê VSD
Unique flexible coil design for the closure of Ventricular Septal Defects (VSD). Closure of perimembranous (aneurysmatic) and muscular VSDs.
Benefits:
Patented coil design with polyester fibres – The coil design with securely attached polyester fibres results in a rapid, effective and safe VSD occlusion.
Outstanding adaptation properties – Nit-Occlud® Lê VSD adapts perfectly to the anatomy of perimembranous VSDs (especially in those with aneurysmatic formation) as well as muscular VSDs.
Safety for the patient's benefit – Due to its flexible design, no permanent AV Blocks occurred in more than 350 reported cases.
Broad range of different sizes – Nit-Occlud® Lê VSD is available in diameters 8, 10, 12, 14 and 16 mm (largest distal winding), making the implant suitable for closing VSDs of various shapes and sizes.
Small Delivery Sheaths – Nit-Occlud® Lê VSD can be deployed through small introducer sheaths of 6F and 7F.
Related Resources