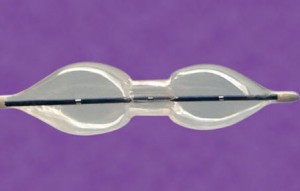 Cardiology
Product Categories
Nucleus-X™
The NuCLEUS X™ has a reinforced braided shaft for greater pushability. 
Recommended for Percutaneous Transluminal Valvuloplasty (PTV) for mitral and aortic position applications. The use of this catheter is particularly indicated in stenosis where difficulty in balloon positioning during inflation is experienced.
Catheter Characteristics
The NuCLEUS X™ PTV catheter is engineered for maximum steering and tracking. The coaxial shaft design provides enhanced column strength and pushability combined with a flexible distal tip for optimum steerability. The innovative single balloon design facilitates positive positioning while holding the balloon in the correct location prior to and during inflation.
Radiopaque Marker
Platinum marker bands facilitate reliable positioning of the balloon and are located at the 'waist' center and beneath the shoulders of the balloon for clear identification under fluoroscopy.
Maximum Trackability
The distal shaft through the balloon is highly flexible for exceptional maneuverability. This, combined with the pushability of the coaxial shaft, provides outstanding tracking performance.
Micro-Thin Non-Compliant Balloon
The NuCLEUS X™ PTV patented design allows for accurate balloon placement. Initial inflation will hold balloon in the desired position, further inflation expands the center of the balloon to effect satisfactory dilatation.
The NuCLEUS X™ PTV balloon is micro-thin for a low deflated profile that maintains tip flexibility. The exceptionally low profile balloon requires the smallest introducer possible. Nominal dimensions are maintained over the entire length of the non-compliant balloon.