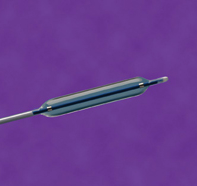 Cardiology
Product Categories
Tyshak-X™
Tyshak® Line catheters are designed with a low profile that delivers high performance. Manufactured from a micro-thin, non-compliant balloon material, these innovative balloon catheters allow the smallest introducers possible. The reduced sheath size helps minimize vessel trauma and entry-site complications. Short, flexible distal tip gives you superior maneuverability. With well-defined shoulders and minimum balloon tapers, Tyshak® Line catheters glide easily through smaller and difficult-to negotiate vessels. They are available in the range of sizes (2.0 – 30.0 mm).
Benefits
Balloon: The Tyshak® Line PTV balloons are coaxially constructed with a distally mounted non-compliant balloon or correct inflation size.
Micro-thin: The Tyshak® Line balloon is made of a micro-thin material which allows an exceptionally low profile and requires therefore the smallest introducers possible.
Inflation and deflation times: The Tyshak® Line PTV balloons have extremely fast in- and deflation times for a quick procedure
Maximum Trackability: The distal shaft through the balloon is highly flexible for exceptional maneuverability. This, combined with the pushability of the coaxial shaft, provides outstanding tracking performance.
Radiopaque Marker: Platinum marker bands facilitate reliable positioning of the balloon.
Biggest range of sizes in market: Tyshak® Line balloon catheters are available in multiple configurations ranging in diameter from 2.0 to 30.0 mm.
Customized Sizes upon request: If you don't find the appropriate size for your procedure, we can make customized sizes upon request.