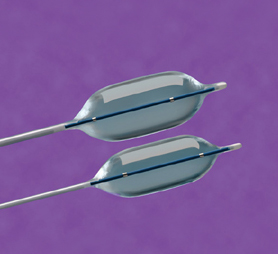 Cardiology
Product Categories
Z-Med II-X™
Z-MED™ Line catheters are suitable for percutaneous transluminal valvuloplasty (PTV) and pre-dilatation in transcatheter heart-valve replacement procedures. They are available in the widest range of sizes (2 – 40 mm) and feature high rated burst pressures suitable for resistant stenosis. Rapid inflation and deflation times minimize procedure times and maximize reperfusion. Short, flexible distal tips with short balloon tapers aid maneuverability and trackability through tortuous anatomy.
Benefits
Balloon: The Z-MED™ Line PTV balloons are coaxially constructed with a distally mounted non-compliant high pressure balloon suitable for resistant stenosis.
In- and deflation times: The Z-MED™ Line PTV balloons have extremely fast in and deflation times for a quick procedure
Maximum Trackability: The distal shaft through the balloon is highly flexible for exceptional maneuverability. This, combined with the pushability of the coaxial shaft, provides outstanding tracking performance.
Radiopaque Marker: Platinum marker bands facilitate reliable positioning of the balloon.
Low profile: The exceptionally low profile of the Z-MED™ Line PTV balloons require the smallest introducers possible.
Biggest range of sizes in market: Z-MED™ Line balloon catheters are available in multiple configurations ranging in diameter from 2.0 to 40.0 mm.
Customized Sizes upon request: If you don't find the appropriate size for your procedure, we can make customized sizes upon request.